As an excited new home buyer, it's easy to overlook some critical inspection processes when purchasing a property. One such essential step is a drain line inspection before buying a home, which many people often forget or ignore. A thorough examination of your prospective property's plumbing system can give you peace of mind and save you thousands in repair costs down the line.
Drain line issues can significantly impact homeownership. From damaged sewer lines and clogs to tree root invasion and leaks- these problems may require expensive repairs or pipe replacements that most new homeowners want to avoid after just moving into their dream house. 
We are going to guide you through the concept of drain lines and why the inspection is critical. Let's start!
Definition and Purpose of Drain Lines
Drain lines are part of your property's plumbing system that carry wastewater away from your home to underground sewage systems or septic tanks. Properly functioning drain pipes ensure that water, waste, and other items are disposed of safely. 
Drain line inspection is critical before buying a new home to inspect the overall condition of the sewer system so that any problems can be addressed early on to prevent unexpected repair costs in the future.
Types of Drain Lines
There are mainly three types of drain lines commonly found in residential and commercial properties – sewage, stormwater, and combination pipes.
-Sewage pipes carry wastewater and solid waste from your home to water treatment plants or septic systems. 
-Stormwater drains remove rainstorm runoff from driveways, roofs, or other hard surfaces along with street debris like leaves or trash.
-Combination pipes serve both purposes.

Why Drain Line Inspection Is Essential Before Purchasing a Home
There are a few reasons why you should get a sewer inspection the first chance you see – we're going to discuss them. Save yourself from surprises down the road by getting your sewer inspections done right away.
Identifying Existing Drain Line Issues
A professional drain line inspection before buying a home can prevent you from buying a property with hidden plumbing problems, such as slow drains, clogs, and damaged sewer lines. 
With sewer scope inspections, miniature video cameras are sent into the pipes to provide an exact evaluation of their condition and placement in relation to the rest of your property. 
Regular home inspectors may not have this level of knowledge or expertise. Don't risk having to deal with expensive repairs on top of your mortgage!
Preventing Future Costly Repairs
Drain line inspection can help prevent future costly repairs. Hidden issues with plumbing may seem small at first, but they could lead to catastrophic problems down the road, costing homeowners thousands of dollars in unexpected repair or replacement expenses.
By investing some money upfront in drain line inspections during purchases or regular maintenance upgrades, homeowners can maintain their property's value while saving themselves from significant financial setbacks stemming from minor negligence.
Assessing the Overall Condition of Drain Lines
When it comes to assessing the overall condition of drain lines, a pre-purchase inspection is essential. It gives a clear idea about any existing issues and provides a chance to fix them before moving in, saving homeowners thousands of dollars. 
According to Alan Carson from homeinspectors.com, "sewer backups account for almost 25% of all residential property damage due to plumbing failures." 
Proactively inspecting sewer lines can help prevent future issues and ensure that your home's entire plumbing system is functioning at its best- giving you peace of mind when investing in your dream home.
When to Conduct Drain Line Inspection
A drain line inspection is key before buying a home. But how do you know when it's time to conduct one? Here are some signs that indicate the need for and benefits of early detection.
Pre-purchase Home Inspection Process
A pre-purchase home inspection process is a critical aspect of any home-buying decision. However, it's important to note that typical inspections don't cover drain line issues in great detail. 
That's why scheduling a separate drain line inspection before purchasing your dream home can be advantageous and provide valuable insights into the overall condition of the property's plumbing system.
Signs Indicating the Need for a Drain Line Inspection
Some signs that indicate that you need a sewer inspection include recurring clogs or slow drainage in multiple drains, septic odors from sinks and toilets, and gurgling sounds coming from pipes. 
Older homes or those with Orangeburg pipes are also at higher risk of sewer line problems. Inspecting your sewer system can help identify any issues before they turn into significant repair costs down the line. 
Hiring a Professional Drain Line Inspector
Now that you understand the importance of a drain line inspection before buying a home, let's dive into how to find the right inspector. While many standard home inspectors include visual checks of plumbing systems, it is recommended to hire a professional plumber who specializes in sewer and drain lines.
Researching and Selecting a Qualified Inspector
Researching and selecting a qualified inspector is vital. Look for companies with several years' worth of experience inspecting homes in your locality (Delaware, Maryland, or Pennsylvania). 
Companies like Smith Drain Solutions specialize in residential and commercial plumbing services, offering various inspections that will give you an expert opinion on the condition of your new property's drains.
Cost Considerations and Obtaining Estimates
Cost considerations are also crucial when getting multiple estimates from different plumbers. Pricing can vary based on home size, driveway length, the distance between septic system locations, etc. So compare offers from multiple inspectors before making any decisions.
Don't forget that hiring an experienced plumber will save you money over time by preventing unexpected repairs!
What to Expect During a Drain Line Inspection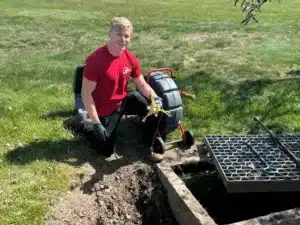 During a drain line inspection, you can expect your plumbing system to undergo an in-depth examination that aims to uncover any possible issues. This process usually involves the use of specialized equipment like cameras that allow plumbers to visually inspect pipes inside walls or underground without causing damage.
Common Findings and Their Significance
During a drain line inspection, some common findings include blockages caused by buildup or foreign objects like tree roots, cracks in the line caused by age or shifting soil, and corrosion of cast iron pipes. 
These issues can lead to serious problems like backups and leaks that require expensive repairs if left untreated. It's crucial to address these problems early on before they become costly emergencies.
Interpreting Inspection Results
Interpreting the inspection report can be a bit much for you as a new homeowner or buyer without technical knowledge of plumbing systems. Let us help you.
Types of Drain Line Issues and Their Severity
There are various types of drain line issues that can impact your home's plumbing system. From minor blockages and leaks to more severe problems like damaged sewer lines or Orangeburg pipes, these can threaten the structural integrity of your entire property.
Without a proper inspection before buying a home, you may miss out on these critical issues that require immediate solutions. 
Repair Options and Cost Estimates
The cost and repair options for drain line issues vary depending on the severity of the problem. While some minor blockages or leaks in sewer pipes might need quick maintenance, more severe problems like damaged sewer lines could demand complete replacement.
As per national averages, full-on pipeline replacements can easily cost over $5,000 to $8,000. It's always better to be aware of these costs beforehand than to regret them later. A proper inspection before buying a home can save you from such unexpected expenses!
Negotiating Repairs With the Seller
If the inspection report uncovers significant drain line problems, you have options for negotiating repairs with the seller. Using accurate cost estimates for repair or replacement from an experienced plumber can help in closing negotiations.
This can be expensive and negotiable, as you would want to get your dream home at a reasonable price. It is imperative that before diving into negotiation, water lines are clear between both parties regarding cost splits and repair work completion timelines.
Re-Evaluating the Purchase Decision Based on Inspection Results
After reviewing the inspection for your prospective property's drain line system, you need to determine whether any issues require further attention or may affect your purchase decision. 
If significant problems arise in the inspection report, then it would be wise to weigh out whether purchasing that particular property is logical enough considering repair costs. The inspection before buying a home ensures informed investment decisions and allows you to re-evaluate wisely before signing any agreements.
Conclusion
In summary, a drain or sewer line inspection is a critical step in the home-buying process. Not only can it prevent costly repairs and help you make an informed decision about your purchase, but it also provides peace of mind knowing the overall condition of your plumbing system. 
At Smith Drain Solutions, we understand what's at stake for new home buyers in Delaware, Maryland, and Pennsylvania when buying an older home versus a newer one.
So if you're considering purchasing a property soon, don't hesitate to contact us for expert drain line inspection services that will reveal any hidden issues with clarity through video footage powered by cutting-edge technology!
Don't wait until it's too late; book our sewer line inspector today!