You notice a foul odor coming from your drains, and water is draining slower than usual. It's clear that something isn't right with your plumbing system, but where do you start? This is where sewer camera inspection vs. traditional plumbing inspection should cross your mind!
Sewer camera inspection involves the use of advanced technology to visually inspect the inside of your pipes and sewer lines without any invasive digging or disruption to your property. A small fiber optic camera is attached to a flexible cable and inserted into the sewer line, providing real-time visual feedback on its condition.
On the other hand, traditional plumbing inspections rely on basic observational methods. It's basically general inspections and physical examinations by plumbers using their expertise to identify potential problems within pipes and drainage systems.
The main goal behind both types of sewer inspections is to identify potential issues within your home's plumbing system before they escalate into expensive problems like leaks or blockages. But they differ in terms of effectiveness and precision. Let's find out how!
Benefits of Sewer Camera Inspection
When it comes to inspecting your sewer line, a sewer camera inspection can be a game-changer. By utilizing advanced technology and real-time visuals, this method offers numerous benefits that traditional plumbing inspections simply cannot match. 
More accurate and detailed inspection
One of the major advantages of sewer camera inspection is its ability to provide a more accurate and detailed assessment of your sewer system. Unlike traditional inspections where plumbers rely on guesswork or physical observation, the use of a fiber optic camera allows for clear visuals inside your pipes. 
This means that even minor issues like hairline cracks, blockages caused by tree roots or corrosion can be easily detected before they lead to major problems. With up to 98% accuracy in identifying pipe issues, a sewer camera inspection ensures no stone is left unturned when it comes to assessing the health of your plumbing system.
Can identify problems that traditional inspection cannot
Traditional plumbing inspections may overlook certain hidden or hard-to-reach issues within your sewer line. But with the help of a camera alone, even the trickiest sewer line problems can be easily identified and addressed. 
For example, a small clog that goes unnoticed during a traditional inspection could cause recurring drain backups if left unattended. However, using high-resolution video footage from the camera inspection, plumbers can pinpoint blockages and take preventive action before they escalate into costly repairs.
Less invasive and disruptive
Compared to traditional plumbing inspections that often involve digging up your yard or opening walls, sewer camera inspection is a non-intrusive method. A small access point is created for inserting the fiber optic camera into your sewer line, minimizing any damage or disruption to your property.
This means no need for extensive excavation or repairs afterward. It's like having X-ray vision for your pipes without all the hassle! Whether you're inspecting a residential drain system or commercial plumbing lines, this method ensures convenience and preserves the integrity of your property.
Can be used to troubleshoot existing problems
In situations where you're already experiencing issues with your sewer system, a sewer camera inspection can be incredibly helpful. By allowing plumbers to visualize the inside of your pipes in real time, this method helps identify the root cause of problems like recurring clogs or low water pressure.
If you're constantly dealing with slow drains and suspect a blocked section in your plumbing lines, a camera inspection will provide clear evidence. It can also help determine whether snaking or hydro jetting is needed for proper resolution. It eliminates guesswork and ensures targeted repairs.
Can be used for preventive maintenance
A sewer camera inspection is not only useful for identifying existing problems but also serves as a powerful tool for preventive maintenance. By getting regular drain and sewer camera inspections, you can catch potential issues early on and take proactive measures to prevent them from becoming major headaches in the future.
If the camera inspection reveals signs of corrosion or aging pipes, your plumber may recommend a pipe replacement before it leads to leaks or complete failure. This proactive approach saves you from extensive damage and costly repairs down the line while ensuring the longevity of your plumbing system.

Drawbacks of Sewer Camera Inspection
While sewer camera inspection has its undeniable advantages, it's important to acknowledge that there are also a few drawbacks associated with this method.  
More expensive than traditional inspection
Unlike traditional inspections, which mainly rely on visual observation or manual testing techniques, sewer camera inspections require specialized equipment and trained professionals. This advanced technology comes with an additional cost compared to more conventional approaches.
Requires specialized equipment and training
Conducting a thorough sewer camera inspection requires knowledge. You need to know about handling the fiber optic cameras effectively and interpreting their findings accurately. Not all plumbing companies may have access to these tools or provide technicians extensively trained in using them.
Not always necessary for minor problems
You'll find certain cases where minor issues, such as simple clogs, can easily be repaired through regular drain cleaning methods. So, you can guess – utilizing expensive high-tech cameras for diagnosis might not always be necessary.
Considering these drawbacks alongside the benefits will help homeowners make informed decisions when choosing between different types of inspections based on their specific needs and budget constraints.
Benefits of Traditional Plumbing Inspection
While sewer camera inspection may be the superior choice for assessing your plumbing system's condition, traditional plumbing inspections still hold certain benefits. Check these out!
Less expensive than sewer camera inspection
One of the key benefits of traditional plumbing inspection is its affordability. Compared to sewer camera inspections, which involve high-tech equipment and specialized technicians, traditional inspections are typically more budget-friendly. 
This makes it a viable option for homeowners who may be looking for a cost-effective solution that still allows them to assess their plumbing system's health without breaking the bank.
Another advantage of traditional plumbing inspections is that they are more widely available. Unlike the technical sewer camera inspection, traditional inspections can be performed by most professional plumbers. 
This accessibility ensures that homeowners and property owners in various locations can easily find a plumber capable of conducting a thorough assessment of their plumbing system's condition.
Can be used to repair minor damage
Traditional plumbing inspections have the added benefit of being able to address minor damages during the inspection process itself. If a plumber identifies any small-scale issues, such as minor leaks or clogged pipes, they can often fix them on the spot. This saves homeowners both time and money by addressing these problems immediately. 
That means, in some cases, a property owner might be able to solve their drainage issue with a single visit from a plumber conducting a traditional inspection.
Drawbacks of Traditional Plumbing Inspection
Traditional plumbing inspection methods may have been the norm in the past, but they do come with their fair share of drawbacks. 
Less accurate and detailed than sewer camera inspection
Traditional plumbing inspections often rely on guesswork and visual observations, which can lead to inaccurate assessments of your drain line. Without the use of advanced technology like a sewer camera, it's challenging for plumbers to get a clear picture of what's happening inside your pipes. 
This lack of precision means potential plumbing problems may go undetected until they escalate into costly repairs or complete pipe replacements. In fact, studies have shown that traditional methods are only about 50-75% accurate in identifying hidden issues within the sewer system.
One major drawback of traditional plumbing inspections is the potential for pipe damage. When conducting these inspections, plumbers often rely on physical probing or utilizing tools that can cause wear and tear to your pipes. This can lead to cracks, leaks, or even complete pipe collapse.
Cannot identify problems that are not causing blockages
One limitation of traditional plumbing inspections is their inability to detect issues within your sewer system that are not yet causing blockages. These inspections primarily focus on visible signs of clogs or obstructions, but they may overlook underlying problems such as corrosion, tree root intrusion, or pipe degradation. 
By the time these hidden issues manifest into drain backups or leaks, significant damage might have already occurred within your pipes and sewer line. 
Comparison of the Two Methods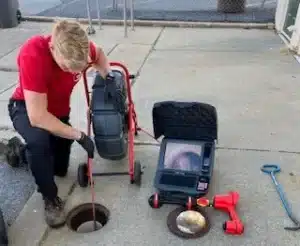 When it comes to inspecting your sewer line and drains, the choice between a sewer camera inspection and a traditional plumbing inspection can make all the difference. Let's take a closer look at how these methods compare in terms of cost, accuracy, invasiveness, troubleshooting capabilities, and maintenance requirements.
If you have thoughts about the cost, sewer camera inspection tends to be on the pricier side compared to traditional plumbing inspections. This is because of the advanced technology involved in sewer camera inspection, such as specialized cameras and equipment. Despite being slightly more expensive up front, sewer camera inspections can actually save you money in the long run by detecting potential issues early on and preventing costly repairs down the line.
When it comes to accuracy, sewer camera inspection takes the lead over traditional plumbing inspections. With a sewer camera inspection, a fiber optic camera is inserted into your pipes, providing real-time visuals of the interior condition of your entire sewer system.
This level of detail allows plumbers to accurately locate any blockages, cracks, or potential issues that may be lurking within your pipes. In contrast, traditional plumbing inspections rely more on general observation and can often miss underlying problems that are not immediately visible.
Sewer camera inspection wins this game by being less intrusive than traditional plumbing inspections. Instead of conducting extensive excavations or dismantling parts of your plumbing system, a sewer camera inspection simply requires inserting a flexible cable with a camera attached to your sewer line.
This non-invasive approach minimizes disruption to your property and saves you from unnecessary mess and inconvenience. Also, it allows plumbers to pinpoint the exact location of any problems without causing further damage to your pipes or disruptions in everyday life.
When it comes to troubleshooting existing problems, sewer camera inspection can help you big time! The detailed visuals provided by the camera allow plumbers to precisely identify the location of any blockages, root intrusions, or sewer pipe damage within your system.
This enables them to develop an accurate diagnosis and create a targeted plan for repairs or maintenance. On the other hand, traditional plumbing inspections rely on less specific methods that may not pinpoint the exact source of issues with such precision.
Through a sewer camera inspection, plumbers can proactively identify potential problems or signs of corrosion before they escalate into major issues. This allows homeowners to take necessary measures such as drain cleaning or pipe replacement if necessary, ultimately saving them from costly repairs in the future.
Traditional plumbing inspections are often reactive and only address immediate concerns rather than identifying underlying causes that could lead to further damage down the road.
Conclusion
The choice between sewer camera inspection and traditional plumbing inspection depends on your specific needs as a homeowner or property owner. While sewer camera inspection offers more accurate and detailed results, it comes at a higher cost due to the specialized equipment and training required. On the other hand, traditional plumbing inspections are less expensive but lack the precision of their high-tech counterpart.
At Smith Drain Solutions, we understand that every situation is unique. That's why we offer top-notch sewer camera inspection services equipped with state-of-the-art technology and experienced professionals. Our goal is to provide you with a thorough understanding of your sewer system's condition so that potential problems can be addressed promptly.
Don't wait for costly repairs! Schedule a comprehensive sewer camera inspection with us today. Take control of your property's plumbing health – trust Smith Drain Solutions for all your drain and sewage needs!