You notice any plumbing problems in your home or business, your first thought should be whether the drain is clean and clear or not. Over time, debris, grease buildup, and other materials can cause clogs that require professional drain cleaning services. There are two main methods of drain cleaning: hydro jetting and snaking.
This post will take a closer look at hydro jetting vs. snaking for drain cleaning – why do these methods differ from each other? Which one should you choose if there is a severe blockage obstructing proper drainage? Let's dive deeper into their differences so you can decide which method works best for your needs!
Hydro Jetting: The Best Option For Drain Cleaning
Hydro jetting can be the most effective option when it comes to clearing away stubborn clogs and obstructions from your plumbing system, such as hardened debris or tree roots.
Hydro jetting makes use of a high-pressure hose that has a special nozzle attached to the end. The powerful stream of water created by this tool can reach up to 4,000 PSI (pounds per square inch). That means that it can blast through just about any obstruction in your sewer drains with ease!
Advantages of Hydro Jetting
Highly effective at removing all kinds of blockages.

Safe for most types of pipes – unlike snaking.

Clears out future clogs – not just existing ones.

Prevents sewer backups due to obstructions being completely removed and smooth flow restored.
Snaking: A Traditional Method
Snaking has been a go-to method of cleaning drains and pipes for many years. It is an effective way to remove basic obstructions, such as hair or food particles, from your home's drain pipes and mainline sewer.
Snaking involves inserting a long, flexible steel cable with an auger-shaped bit attached at the end into your home's plumbing system through cleanout access points. The auger then rotates inside the pipe to break up any clogs.

How Does Snaking Work?
-A plumber inserts the snake
-The plumber uses a crank handle to move it through pipes
-As they reach areas where there may be clogs, they'll feel resistance
-Then push harder against this resistance until breaking down debris
Key Differences: Hydro Jetting vs Snaking
Dealing with clogged sewers can be frustrating – and finding the right method to clear them can be even more daunting. This is where hydro jetting and snaking come in. While both methods are great for clearing blockages, there are key differences that homeowners should consider before making a choice.
Efficiency in removing different types of clogs
When it comes to efficiency in removing different types of clogs, hydro jetting takes the cake. This method uses highly pressurized water to blast through even the most stubborn blockages, including tree roots and hardened debris. 
On the other hand, snaking may struggle with more serious clogs or obstructions due to its limited effectiveness in clearing out large chunks of debris within your pipes.
Suitability for different drain sizes
Hydro jetting is ideal for larger pipes and drains, such as main sewer lines, but also very effective on small lines as well. It uses highly pressurized water to blast through stubborn clogs, making it effective against even tree roots and hardened debris. 
Then again, snaking makes use of a steel cable with an auger or corkscrew at its end to break up obstructions inside the pipe. This method works best for smaller drain sizes, like sinks or shower drains.
Impact on long-term pipe health
Hydro-jetting not only clears clogs but also helps prevent future ones. The high-pressure water stream scours the inside of pipes, removing buildup and debris that may contribute to blockages down the line. 
Snaking generally only removes obstructions in its path and does not have this preventative effect on pipe health.
When to Choose Hydro Jetting
When traditional drain unclogging methods don't do the trick, consider hydro jetting as an alternative solution. When would be an appropriate time? Take a look below.
Severe or recurring clogs
Severe or recurring clogs are often an indicator of a deeper problem within your plumbing system. The use of traditional snaking methods may temporarily clear the blockage, but it will not address the underlying issue. 
Hydro jetting is necessary in such cases, as it uses high-pressure water to completely clean out your drain pipes and remove any hardened debris that could lead to future clogs or even serious damage inside your pipes.
Grease or mineral buildup
Over time, grease and mineral buildup can accumulate inside your pipes, leading to the clogging of sewer drains. Traditional methods won't always help you – often, they are not powerful enough to break through these types of blockages. 
However, hydro jetting uses a strong stream of pressurized water to blast away any buildup without causing damage or corrosion to the pipes, making it an ideal solution for managing tough-to-remove obstructions in your plumbing system.
Tree root intrusion can cause significant damage to your plumbing system. Roots can grow into pipes seeking moisture and nutrients, leading to slow drainage or complete blockage. 
Hydro jetting, with high water pressure, is powerful enough to remove even the most stubborn tree roots and thoroughly clean the inside of your pipes — an option snaking cannot provide in such cases.
Aging or deteriorating pipes
Aging or deteriorating sewer pipes can cause blockages due to rust, corrosion, or collapsed sections of pipes. Snaking through such fragile pipes may be successful, but it can cause further damage. 
Hydro jetting is necessary for these scenarios as it utilizes a strong flow of water that will effectively and safely clean your sewer line without causing any additional harm to your already weakened system.
Over time, your sewer and drain pipes can accumulate a buildup of grease, dirt, soap scum, and other debris. 
With hydro jetting, you can clean out these pipes completely and eliminate any potential blockages before they become severe clogs. Regular hydro jetting services prevent sewer backups or costly repairs in the future.
Scenarios Where Snaking Is Suitable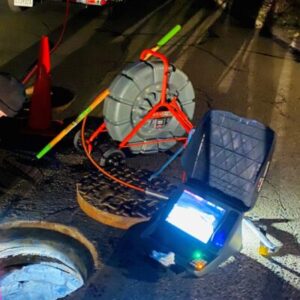 A plumbing snake, also called an auger or drain snake, is a long steel cable with a corkscrew-like tip that is inserted into the pipe to manually remove blockages. While it may not always work on serious clogs caused by tree roots or other obstructions inside your pipes' sewer lines, if you're lucky enough – it may be able to clear away smaller debris effectively.
Have a simple or minor clog in your drain? You can try using a plumbing snake to clear it away. These basic obstructions are often caused by hair, grease buildup, and food particles that haven't been disposed of properly- basically, anything that doesn't belong in your pipes!
If you're dealing with a routine clog caused by hair or debris build-up, snaking may be an effective solution. A plumbing snake can physically remove these types of obstructions from your pipes and get water flowing again. 
This method has been used for many years and is still referred to as one of the best ways to clear basic drain clogs, whether they're in your shower or bathroom sinks.
Limited access to the drain
To clean a drain that is buried deep within walls or underground pipes, snaking may be your best bet. As this method only requires direct access to one end of the pipe, it can be an effective solution when limited space makes hydro jetting impractical. 
A plumbing snake also gives precision when working on an otherwise hard-to-reach obstruction and does not require any excavation like hydro jets in cases of limited access issues.
Snaking is ideal when there is a tight budget. It is an affordable option compared to other professional plumbing services like hydro jetting, which involves specialized equipment. 
With snaking, all you need is just a plumbing snake or auger, which will come at a very low expense. Depending on the length of the cable needed for your drain size, the cost may vary.
Let Professionals Help
Choosing between snaking and hydro jetting can be a critical decision. However, it's crucial to understand that each method has its own advantages and disadvantages, depending on your particular situation. For tough blockages or clogs in your plumbing system like tree roots, hardened debris or grease hydro jetting is undoubtedly the best option out there. 
This high-pressure water blast technology is offered by professional plumbers at Smith Drain Solutions in Delaware, Maryland, and Pennsylvania.
So why waste time trying different methods when you can get permanent solutions today? Give us a call at Smith Drain Solutions to schedule an appointment with our highly trained experts. Trust us to inspect and resolve any drain cleaning problem with efficiency!