Sewer line areas are crucial for sending waste away from your home or business but they are not impervious to blockages. These blockages can be caused by trees, their roots can penetrate sewer lines causing damage to sections of your line. Roots gradually block the flow of sewage which can eventually lead to a complete blockage. Other causes for clogs are grease, tampons, wet wipes and other items that can build up over time. Water jet sewer cleaning also known a hydro-jetting is a clear answer to these issues.
What is it?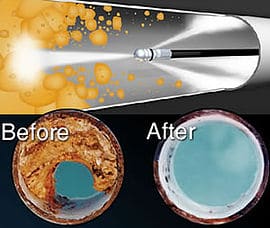 Water jet sewer cleaning uses a high-pressure hose with a specialized nozzle that cleans and clears out the pipe. The High-pressure water jetting breaks up the debris that is in the pipe and flushes it all out. It is very common and recommends that you get a camera line inspection before doing any sewer cleaning to identify where the blockage is and what repairs will be required.
Here is a great video showing hydro-jetting in action: https://youtu.be/7YVsoAmwp5g?t=300
Why should you use water jetting sewer cleaning?
A blockage in your sewer line could mean that your drains are beginning to back up and overflow. Water jetting sewer cleaning is an extremely effective way to clear out the more intense clogs. The water just pulverizes most any material and washes them away. It is also the best solution for grease and grime buildup that may be clinging to the pipe walls. Also, it is environmentally safe because it doesn't use any chemicals, just water at extremely high-pressure levels.
Maintaining sewer lines is an important part of a home or business owner and water jet sewer cleaning can help keep your lines open longer in a very cost-efficient manner. If you need a water jet sewer cleaning give Smith drain solutions a call at  410-938-7642 or book an appoint at on our website here!
Don't accept anything less than the best when it comes to servicing your plumbing system. Chester County, Atglen, Avondale, Berwyn, Birchrunville, Brandamore, Chatham, Chester Springs, Coatesville, Cochranville, Devault, Devon, Downingtown, Elverson, Exton, Glenmoore, Honey Brook, Immaculata, Kemblesville, Kennett Square, Kimberton, Landenberg, and Lewisville are all served by our staff.