Are you tired of dealing with pesky sewer line issues? What if I tell you that we have got solutions for you? In this article, we'll delve into the world of efficient sewer line repair with sewer camera inspection. But first, let's understand why properly maintaining your home's plumbing system is crucial.
When it comes to our homes or businesses, keeping everything running smoothly is vital. And one area that often gets overlooked is our sewer system. Yes, folks, those intricate systems responsible for carrying away wastewater and sewage from our properties to treatment plants or septic tanks need some TLC too!
Nowadays, repairs can be quite expensive; however, pinpointing problems through thorough inspections can help identify potential issues before they escalate into major financial headaches.
This is where sewer camera inspection services come in handy! It allows us to see what's going on inside your pipes without causing any damage or unnecessary excavation.
So sit back and relax as we explore how utilizing high-definition video technology in a simple yet ingenious way can not only save precious time but also safeguard your hard-earned dollars.
What is a sewer video inspection?
A sewer video inspection involves inserting a specialized camera into your damaged sewer lines to assess their condition. This cutting-edge technology allows plumbers to visually inspect the interior of the pipes and pinpoint any issues with precision. 
With high-definition video, we can see tree root intrusions, clogs, pipe damage, or other potential problems that may be lurking within your plumbing system. It's like giving your drains an X-ray! 

What are the common problems with sewer lines?
Sewer Lines are the unsung heroes of our plumbing systems. But sometimes, even the strongest superheroes face their fair share of challenges. Let's take a look at some common problems that can arise with sewer lines:
Clogs:

Whether it's due to grease buildup, foreign objects flushed down the toilet (think excessive amounts of toilet paper), or invasive tree roots infiltrating your pipes, clogs are a common culprit.

Pipe damage:

Over time and with exposure to various elements like tree roots or ground shifting, pipes can become damaged or cracked.

Corrosion:

Older piping materials may corrode over time due to constant contact with wastewater and other chemicals.
No need to panic just yet, though! With proper inspection using advanced technology like sewer camera inspection, these issues can be identified quickly and accurately.
How to do sewer line repair with sewer camera inspection process
With the power of sewer camera inspection, you can tackle any sewage issues efficiently. By pinpointing the location and extent of damage, choosing the right repair method, minimizing disruption to your property, and extending the lifespan of your sewer line, this process saves time and money while keeping things flowing smoothly.
Identify the location and extent of damage to the sewer line
Gone are the days of guesswork when it comes to sewer line issues. Thanks to sewer camera inspections, we can now identify the exact location and extent of damage with precision. By inserting a high-quality video camera into your plumbing system, we can visually inspect every nook and cranny, capturing real-time footage that reveals any cracks, leaks, clogs, or other potential problems. 
This helps us determine the most effective repair method without wasting time or money on unnecessary digging.
Choose the right repair method for the specific problem
Once we've identified the specific problem with your sewer line through camera inspection, it's time to decide on the best repair method. Depending on the issue at hand, there are a variety of options available. 
For minor cracks or leaks, trenchless repairs such as cured-in-place pipe lining may be suitable. In more severe cases involving pipe collapse or root intrusion, traditional excavation and replacement might be necessary. By tailoring our approach to your unique situation, we ensure effective and long-lasting results.
Minimize disruption to the home or business
Nobody likes disruptions, especially when it comes to their home or business. With sewer camera inspection, you can minimize the disruption caused by sewer line repairs. Rather than tearing up your property in search of the problem, we use advanced technology to visually inspect the pipes and pinpoint any issues. 
This targeted approach not only saves time but also reduces potential damage to your property. Say goodbye to unnecessary excavation and hello to a smoother repair process!
Extend the lifespan of the sewer line
Think of a sewer camera inspection as an investment in the longevity of your sewer line. By catching potential issues early on, you can address them before they escalate into costly repairs. Regular inspections help identify factors like tree roots, buildup, or corrosion that can compromise the integrity of your pipes over time. 
By addressing these issues promptly and employing appropriate maintenance measures, you can extend the lifespan of your sewer line and ensure uninterrupted functionality for years to come.
Factors that affect the cost of sewer line repair
The repair cost of sewer lines is a topic that can give anyone headaches. Understanding the factors that affect the cost of sewer line repair can help you prepare and plan ahead.
First on our list is the extent of the damage. Is it just a minor blockage or something more severe, like a collapsed pipe? The severity of the issue plays a significant role in determining how much you'll be shelling out for repairs.
The type of repair method
Next up is the type of repair method needed to fix your sewer pipe woes. Different situations call for different approaches – from simple snaking and hydro jetting to more complex methods like trenchless pipe lining or traditional excavation – each comes with its own price tag.
The location of the sewer line
Last but certainly not least, we have to consider where your sewer line is located. Is it easily accessible or buried deep beneath layers of concrete? The accessibility factor can impact both the time and costs associated with repairs.
How long does a sewer line inspection take?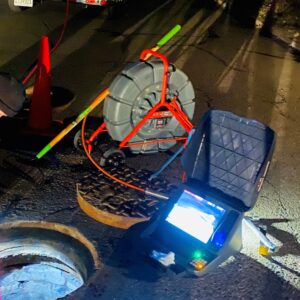 One of the great benefits of a sewer inspection with a camera is its efficiency. The process typically takes only a few hours, allowing you to quickly assess the condition of your pipes and pinpoint any issues. 
Compare that to traditional methods that could take days or even weeks, causing inconvenience and disruption in your home or business. With modern technology on our side, we can get the job done swiftly while giving you peace of mind.
How Can Smith Drain Solutions help?
When it comes to sewer line repair and drain inspection, Smith Drain Solutions is here to save the day! Our team of expert plumbers specializes in using cutting-edge technology like sewer camera inspection to diagnose and fix any issues efficiently. 
With our state-of-the-art equipment and years of experience, we can pinpoint the exact location of blockages, leaks, or damages in your piping system. 
Don't waste another minute dealing with plumbing issues – give us a call today for peace of mind! We are known for quality plumbing and inspection services around here in Delaware, Maryland, and Pennsylvania.