When it comes to maintaining the plumbing system of commercial properties, there's one important tool that can save you time, money, and headaches – sewer camera inspection. This innovative method allows plumbers to see inside your sewer lines using a video camera attached to a flexible cable. By inserting this camera into the pipeline, professionals can diagnose issues and identify potential problems in real time.
Why is sewer camera inspection for commercial properties so crucial? It provides an accurate diagnosis of any issues within your plumbing system without invasive digging or guesswork. Whether you own a restaurant dealing with grease clogs or manage an office building facing tree root damage, sewer camera inspections are essential to finding the root cause of problems.
By catching issues early on through regular preventative maintenance and inspections using a quality service provider, commercial property owners can prevent costly repairs down the line while keeping their pipes in excellent condition. So let's dive deeper into what exactly makes sewer cameras such an indispensable tool for businesses!
What is a Sewer Camera Inspection?
A sewer camera inspection is a non-invasive method used by plumbers to inspect the interior of drains and sewer lines. A small, waterproof video camera attached to a flexible cable is inserted into the pipe, allowing technicians to visually inspect its condition. 
This technology provides real-time footage that helps identify issues such as clogs, breaks, root intrusion, or other damage inside the pipes. By pointing out these problems accurately and efficiently with minimal disruption, commercial property owners can save time and money on repair solutions.
Why Perform a Video Camera Inspection for Commercial Properties?
Performing a video camera inspection for commercial properties is vital because it allows you to detect and address sewer problems in their early stages. Catching issues like clogs, leaks, or tree root intrusions before they worsen can prevent extensive damage and costly repairs.
For instance, restaurants dealing with frequent grease buildup can benefit from regular camera inspections to identify sources of clogs. By taking preventative measures based on the inspection's findings, businesses can maintain smooth operations and avoid unexpected plumbing emergencies that could affect their customers' experience.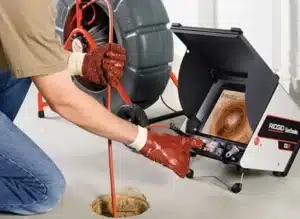 What are the Benefits of a Sewer Camera Inspection for Commercial Properties?
A sewer camera inspection offers numerous advantages for commercial property owners. Here are the key benefits:
Accurate Diagnoses: By visually inspecting the inside of pipes in real time, plumbers can accurately diagnose plumbing issues and identify their root causes. This allows for targeted repair solutions suited to your specific problem.
Cost and Time Savings: Sewer camera inspections help prevent invasive digging or unnecessary repairs by pinpointing the exact location and nature of problems, saving both time and money.
Greater Efficiency: Instead of relying on guesswork or trial-and-error methods, sewer cameras allow technicians to quickly locate blockages, breaks, or other damage within your plumbing system, resulting in faster resolution times.
Proactive Maintenance: Regular sewer camera inspections enable proactive maintenance to catch minor issues before they escalate into major problems that could disrupt business operations.
How Does a Commercial Sewer Camera Video Inspection Work?
Imagine the inside of your pipes as uncharted territory. With a sewer camera inspection, we equip ourselves with a video camera and navigate through this underground world like explorers! Here's how it works:
A professional technician inserts a small, high-resolution camera attached to a flexible cable into your sewer lines.

The camera transmits real-time video footage to the technician above ground.

They analyze the footage on a screen, identifying any signs of clogs, cracks, root intrusion, or other damage inside the pipes.

By visually inspecting every nook and cranny of your plumbing system in detail, problems can be diagnosed accurately.
Why Does Sewer Camera Inspection Matter for Commercial Properties in Sewer Line Repair?
When it comes to repairing your sewer, sewer camera inspection plays a vital role for commercial properties. Here's why:
To Prevent Further Damages 
Identifying issues early on through a sewer camera inspection allows you to tackle problems before they escalate. From hairline cracks to blockages caused by grease or tree roots, catching these issues early can prevent extensive damage and costly repairs down the line.
To Prevent Health Hazards 
A damaged sewer pipe can lead to sewage backups and leaks, which pose serious health hazards in commercial spaces like restaurants or office buildings. By conducting regular inspections with a video camera, potential health risks due to contaminated water or foul odors are identified promptly.
Damaged pipes may compromise the structural integrity of buildings if left unaddressed, leading to weakened foundations and even sinkholes over time! Early detection using sewer cameras ensures that potential safety hazards are mitigated swiftly.
By investing in routine maintenance schedules that include professional-grade inspections with video cameras attached, commercial property owners can minimize the risk of significant plumbing system failures while providing a safe environment for customers and employees alike.
What Comes After a Sewer Camera Inspection?
Once the sewer inspection is completed, it's time to address any issues that were discovered during the inspection. Depending on the findings, there are several options for repair and maintenance:
Using Hydro-jetting to Clean Your Drain Pipes
Hydro jetting is a highly effective method for cleaning drain pipes. It involves using high-pressure water streams to remove mineral buildup, grease, and other debris from the inside of the pipes. 
This powerful technique can clear out even the most stubborn blockages, ensuring smooth flow and preventing future clogs. It's like giving your drains a refreshing power wash! So say goodbye to slow-moving sinks and backed-up toilets with hydro jetting.
Using Pipe Lining to Repair Sewer Pipes
Pipe lining is a trenchless method used to repair damaged sewer pipes. It involves inserting a flexible liner coated with a resin material into the existing pipe. This liner then hardens, forming a durable new pipe within the old one.
This innovative technique saves time and money compared to traditional excavation methods, as it eliminates the need for extensive digging and disruption of property. With minimal invasiveness, pipe lining provides an efficient solution for repairing cracks, leaks, and other issues within commercial sewer lines.
Using Pipe Bursting to Repair Sewer Pipes
Pipe bursting is a trenchless method used for sewer pipe repairs. It involves replacing old, damaged pipes by using a hydraulic machine to fragment them and simultaneously pull through new ones. 
This technique allows for minimal disruption to the surrounding area, saving time and money on traditional excavation methods. Our team of experts uses this cost-effective solution to efficiently restore your commercial property's plumbing system.
Using Conventional Trenching to Repair Sewer Pipes
In some cases, when sewer line damage is extensive, conventional trenching may be the best solution. This method involves excavating a trench along the length of the damaged pipe and replacing it with a new one. 
While it may sound like an invasive option, traditional trenching can effectively address severe pipe collapses or breaks that cannot be repaired using less invasive methods.
Choose the Right Professional for Sewer Camera Inspection Service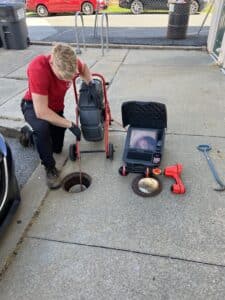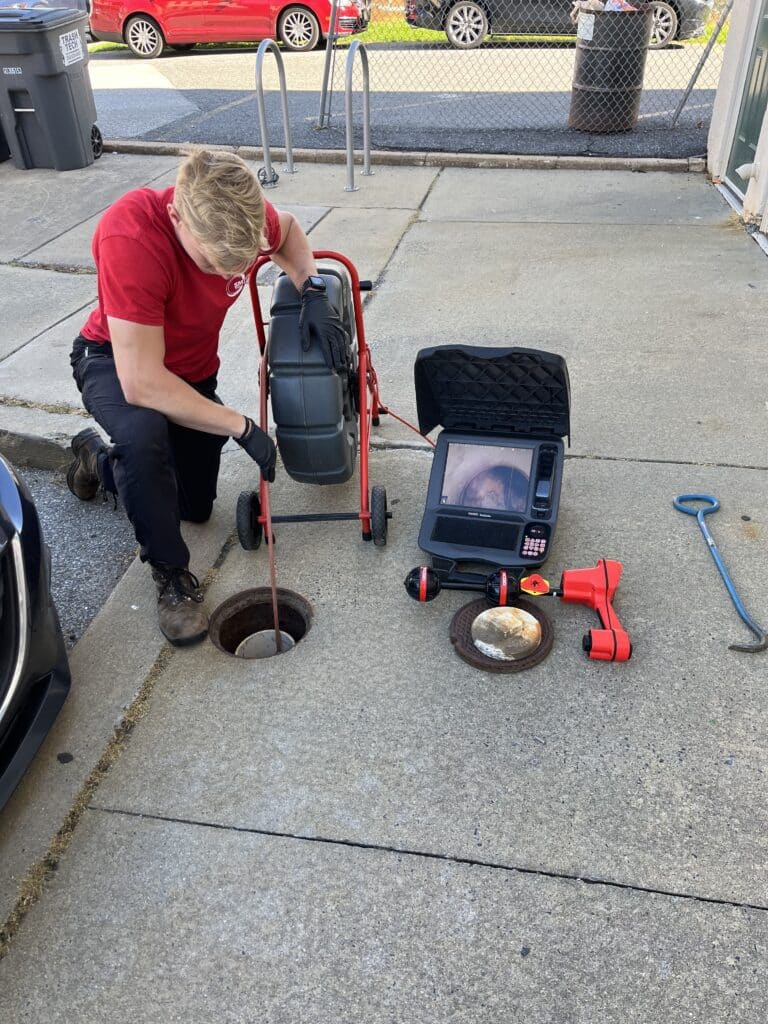 When it comes to sewer camera inspections for your commercial property, it's crucial to choose a reliable and experienced professional like Smith Drain Solutions. With years of expertise in drain cleaning and maintenance, our team of skilled technicians uses state-of-the-art equipment for accurate diagnoses.
With Smith Drain Solutions, you can expect top-quality service that will efficiently identify any issues inside your pipes. By trusting us with your sewer camera inspection needs, you'll receive expert recommendations to prevent future problems and keep your plumbing system running smoothly.
Schedule a sewer camera inspection with Smith Drain Solutions today and experience the peace of mind that comes with knowing the true condition of your commercial property's plumbing system. 
Conclusion
In conclusion, sewer camera inspection is a game-changer for commercial properties. It allows users to diagnose plumbing issues with precision and efficiency, saving time and money in the long run. 
By detecting problems early on through regular maintenance and inspections, property owners can prevent costly repairs while preserving the integrity of their plumbing systems. 
So don't wait until it's too late – schedule your sewer camera inspection or other plumbing services today with Smith Drain Solutions if you are in Maryland, Delaware, or Pennsylvania.