When it comes to bathroom drain cleaning, most people rely on simple solutions like vinegar and baking soda mixtures or a plunger. These can be effective in removing minor clogs but may not always be sufficient for heavier buildups. Hydro jetting is a more advanced method of unclogging drains that has been gaining popularity due to its high efficiency.
Hydro jetting involves blasting high-pressure water streams at up to 4,000 PSI (pounds per square inch) through blocked pipes and drains. This powerful technique quickly breaks down even stubborn blockages like hairballs, soap scum, or grease buildup, leaving your plumbing system functioning smoothly again.
This comprehensive approach removes all possible debris, promoting cleaner pipes with better flow rates over time without damaging them, which gives excellent results. So, today we will explore the concerns related to bathroom drain cleaning and discuss how hydro jetting is preferable!
Common causes of bathroom drain blockages
Hair, soap scum, and dental floss are some common culprits that can cause bathroom drain blockages. These substances typically build up over time, resulting in slow-draining water or standing water in sinks and tubs.
Other frequent reasons for clogs include:
– Flushed sanitary products (tampons)
– Improper disposal of paper towels
– Hard-water deposits
It is important to take immediate action when noticing signs of a blocked sink, as it can lead to more severe problems like overflow damage.
Consequences of Neglected Drain Blockages
Neglecting bathroom drain blockages can lead to serious consequences such as unpleasant odors, slow water drainage, and, worst-case scenario, flooding. This not only damages your property but also poses health risks related to contaminated sewage water.
In fact, according to the EPA (Environmental Protection Agency), more than $2.5 billion is spent each year due to plumbing issues caused by clogged drains. It clearly emphasizes the need for a vigilant drain maintenance routine – a mix of DIY unclogging methods or hiring a professional contractor offering hydro jetting services if necessary. 

Can I clean bathroom drain blockages myself?
For minor clogs, you can use a plunger or a mixture of baking soda and vinegar. More severe obstructions might require plumbing tools like a snake or the removal of the drain cover.
However, for hydro jetting as an effective method to completely unclog pipes, it is best to leave it to professional resources. They have a depth of knowledge unsurpassable by people going DIY.
Challenges in DIY clearing drain blockages
DIY solutions for drain cleaning can be successful; nevertheless, they lack the guaranteed efficiency of professional methods like hydro jetting. These methods depend on specific pipe systems and will not always work. There's a reason why DIY quick fixes are only temporary – because if done incorrectly, they can often cause permanent damage to your plumbing system.
For example, the overuse of harsh chemicals can corrode pipes. Even unnecessary force exerted while opening clogs might harm seals and crack clean-out plugs. It will, in turn, call for costly repairs that could have been avoided with professional cleaning tools.
Benefits of Hydro Jetting for Bathroom Drain Cleaning
Hydro jetting is one service that you don't want to miss if you care about your bathroom drain cleaning. It offers numerous advantages — let's check them out – from its thorough and effective cleaning approach to environment-friendliness!
Thorough and effective cleaning
Hydro jetting provides a more in-depth and complete bathroom drain cleaning method than traditional solutions. The high-pressure water blast can remove hair and soap buildup that cause stubborn clogs, providing an impressively deep clean with little room for potential blockages later on. 
Plus, it eliminates mold spores and other pathogens that could otherwise lurk inside your pipes undetected. It improves indoor air quality- ensuring something beyond basic sewer maintenance solutions!
Preventing future drain blockages
Hydro jetting not only cleans out clogs effectively but also clears all buildup and debris that could catch other particles over time. This makes it an excellent technique to help prevent future clogs from forming in your bathroom drains. 
Also, regular hydro jetting can elongate the lifespan of plumbing systems by eliminating corrosive agents that weaken pipes and joints over time- a remarkable benefit!
Preserving the integrity of the plumbing system
Traditional drain cleaners or cleaning methods rely mostly on abrasive chemicals that can harm your piping and plumbing systems. In turn, it can lead to more costly problems. 
Hydro jetting removes all clogs without damaging any existing pipes or fixtures. It also maintains the health of your system by flushing out sedimentary debris like grease stuck to the sidewalls. This helps save money over time while keeping expensive repairs at bay!
Hydro jetting is one of the most environmentally friendly alternatives to chemical cleaning agents since it is an exclusively water-based process. 
High-pressure equipment used in hydro jetting processes uses less water when compared with other traditional methods. It eliminates hazardous waste and toxins that are detrimental to human health and overall environmental safety!
Cost-effective in the long run
While hydro jetting requires equipment rentals or professional services, unlike DIY methods that often end up being a mere band-aid fix that costs more to re-do, this investment can help curb future expenses. 
A single cleaning with hydro jetting offers long-term peace of mind. It reduces clogs and prevents costly leaks in an indoor plumbing network over time!
Time-efficient compared to alternative methods
Traditional cleaning methods can require more time and resources to eliminate a single blockage in your bathroom drain. Hydro jetting, on the other hand, provides quick relief. It is an efficient way of clearing multiple build-ups at once- getting the water flowing freely again with just one session! 
With this modern method, you don't have to spend your entire day trying different remedies because the service technician can get it done quickly. With fewer repeat appointments necessary, that means more time is saved for other critical tasks on your plate!
Versatility and applicability to various bathroom drains
Hydro jetting is a great cleaning solution due to its versatility. It can be used in all sorts of pipe types—from PVC pipes to metal ones—and applies well to different bathroom drainage systems. 
This method also benefits those who use or care for an older building. The plumbing and paving construction materials of these buildings are prone to more problems created by weather changes or environmental factors (like contaminants). Hydro-jetting works well for clearing away organic waste without containing any harsh substances that could further pollute your environment!
The Hydro Jetting Process
The hydro jetting process is an advanced method of unclogging drains that requires precision and expertise. Let's get to the technicalities and steps of it-
Initial assessment and inspection
The first step in hydro jetting for bathroom drain cleaning is an initial assessment and inspection to determine the cause of the clog. Through video camera inspections, a plumbing expert identifies blockages like hairballs or grease buildup that are causing slow drainage or other plumbing problems. This enables them to execute precise repairs with minimal disruption, saving time and money.
Preparation for hydro jetting
Once the initial assessment determines that hydro jetting is necessary, plumbers will prepare for the procedure by ensuring all pipes and drains are cleared of any debris. They'll also provide an estimated cost and discuss all options available with clients before continuing. 
Plumbing experts use high-quality equipment from leading manufacturers in order to deliver optimal results. This preparation ensures that hydro jetting delivers maximum efficiency while minimizing damage and interruption to plumbing systems.
Executing the hydro jetting procedure
During the hydro jetting process, plumbers utilize cutting-edge equipment to blast highly pressurized water into pipes and drains (at 4,000 PSI, as mentioned before). 
This powerful force clears away years of buildup caused by grease, soap scum, or hairballs, making your plumbing system smoother and more efficient. 
Post-treatment evaluation
After completing the hydro jetting process, plumbers will perform a final inspection to ensure everything is working as it should. 
This crucial step provides reassurance to clients that their plumbing system has been restored to its full potential, removing any nasty odors and providing optimal water flow rates for bathing and washing dishes.
Maintenance Tips to Prevent Bathroom Drain Blockages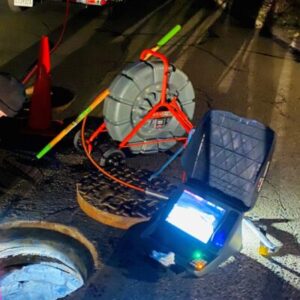 Nobody likes a clogged bathroom sink drain. It can be frustrating and time-consuming to clear up, even with the most effective methods. Fortunately, there are some easy maintenance tips that you can follow to keep your drains clean and free-flowing all year!
Regular cleaning and maintenance practices
Cleaning your bathroom drain regularly can help avoid unwanted clogs and prevent major plumbing issues down the line. Simply mixing a cup of baking soda with white vinegar or flushing boiling water down your drain once a week can make all the difference. 
In fact, according to experts on home plumbing care, taking these steps could reduce overall blockages in drains by 40%! So don't wait until you have an issue before addressing it. 
Proper disposal of waste materials
One of the primary causes of bathroom drain blockages is improper disposal of waste material. It may seem like common sense, but many people still dispose of items like sanitizing wipes, cotton swabs, or hair into their drains, resulting in unwanted clogs. Keeping a small trash can next to your sink for these items ensures that none go down the drain and avoids build-up over time.
In fact, according to experts at plumbing companies worldwide, about 80% of blocked pipes are mostly caused by improper disposal in your drains!
Monitoring signs of potential blockages
It is important to keep a watchful eye on your bathroom drain for any signs of impending clogs, such as slow draining or strange noises coming from within. This could indicate that buildup in the plumbing system has reached critical levels and requires professional intervention from a trained plumber.
To prevent future issues, it's advisable to use pop-up stoppers or drain guards to catch hair, soap scum, and other debris going down your drains. It vastly reduces buildup over time, which means cleaner pipes with fewer chances of blockage!
Professional Hydro Jetting Services
As plumbing issues can turn out to be stubborn and inconvenient, it is essential to choose a reliable solution to avoid future problems. For any bathroom drain cleaning requirements or other pipe blockage-related needs in Delaware, Maryland, and Pennsylvania, USA, Smith Drain Solutions has got you covered. We are hydro jetting specialists with years of industry experience.
Our certified field experts use top-of-the-line equipment, such as high-capacity water pressure pumps and specialized nozzles, to effectively clear up clogs without damaging pipes. Plus, our services promise minimal interruption, saving both time and money for homeowners who need efficient solutions.
Don't wait until clogs become complete blockages before seeking out a proper professional service! At Smith Drain Solutions, using hydro jet technology will produce faster, more effective results, preserving your pipes like new again with improved flow rates! Call us today!