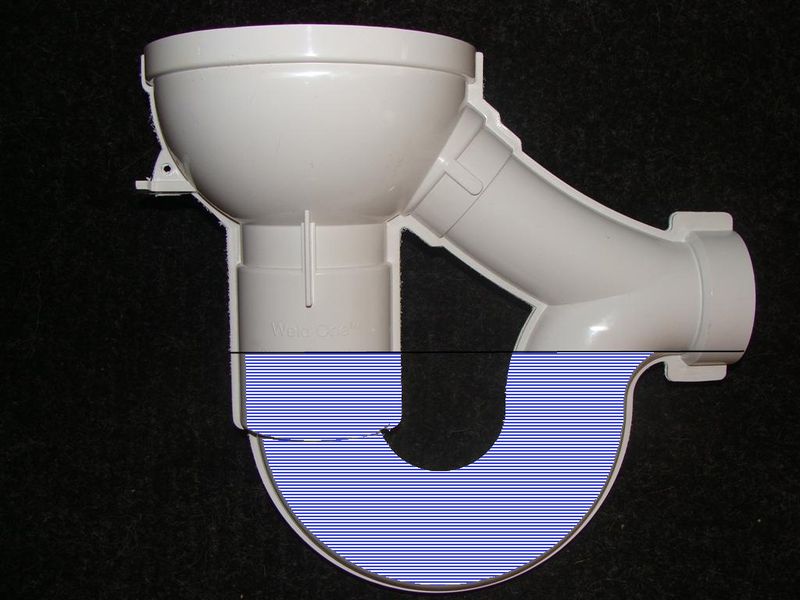 You most likely have seen floor drains in public restrooms but floor drains are also in many other places such as commercial kitchens, garages, basements, laundry rooms, and even some residential bathrooms. Floor drains are great because they capture the overflow from sinks, toilets, tubs, etc. and prevent the room from flooding.
Though floor drains are great they can sometimes cause an awful smell to protrude from them. This is most likely due to the traps being dried out. If you look at the diagram to left, you can see that floor drains have a U shaped P trap pipes, very much like the drain of your bathroom sink. This U-shaped design is to trap water in the pipe to prevent sewer gases from coming up through the drain. Though sometimes these can dry out cause the smell of sewer gas to come through the pipe. To prevent this, grab a gallon of water or two and pour it into the drain. This will no only refill the trap and seal off that awful swear gas but show you if the drain itself is working properly. This should be done around once a month.
If the drain is not doing its job of draining then you most likely have a clogged drain. Floor drains tend to clog more often due to being on the floor where there is a lot of dirt and debris. Some even sweep there dirt and debris into there floor drain, dont do this. It's often best to call the professionals when a clog occurs and that's where Smith Drain Solutions come in! If you have a clogged floor drain give us a call at  410-938-7642 or book an appointment here!