Are you having issues with your plumbing system? One of the most common problems people face is drain line damage. These can range from slow-draining sinks and low water pressure to sewage backups and burst pipes. Whether it's a residential or commercial property, you must acknowledge the signs of drain line problems and address them promptly to avoid costly repairs.
Drain line problems occur when there are blockages in your sewer lines that affect proper waste disposal, leaving you with messy conundrums throughout your daily life! Imagine taking a relaxing shower only for dirty water to build up around you because it won't drain properly!
In this blog post, we will explain five costly and problematic issues with sewer lines! Keep hooked on all key aspects regarding the essential signs of trouble, which should never be overlooked!
5 Common Signs of Drain Line Problems
If you're a property owner, you know the importance of maintaining your plumbing and sewer systems. One major concern is common drain line issues, which can cost you a lot if not addressed early on. Let's learn what they are!
1. Clogged drains causing backups and slow drainage
Clogs are the most common sign of a drain or sewer line problem. A clog can happen anywhere in your plumbing system, from the sink to the main sewer line located outside your home. You may notice that water is draining slowly or not at all, or there may be unpleasant smells coming from your drains due to sewage buildup. 
If you experience one clogged drain after another throughout your home, it's likely that you have a more significant issue with your main sewer line.
2. Foul odors emanating from drains
Emanating foul odors usually indicate that there is sewage buildup somewhere in your plumbing system, which can be caused by a clog or even a broken sewer line. 
If you notice the smell of sewer gas in your home, it's essential to get it checked out immediately to prevent further damage to your pipes and ensure the safety and health of everyone living there.
3. Water leaks and damage to property
Water leaks and damage to your property can indicate a more severe drain line problem, like a cracked or broken sewer pipe. Undetected water leaks can cause severe harm, not just to your pipes but also to the structure of the building itself. 
Some warning signs of water damage include warped flooring or walls and discolored ceilings. Don't hesitate to call a plumber if you suspect any kind of leak in your plumbing system.
4. Sewage backups and health hazards
Sewage backups are a serious health hazard that can occur in both residential and commercial properties when there is a blockage or damage to the sewer line. If left unchecked, they could expose you and your loved ones to harmful bacteria, viruses, and other pathogens present in human waste.
In addition to being hazardous to your health, sewage backups can also inflict significant property damage. Raw sewage has the potential to seep through floors, causing costly structural repairs.
According to data analysis done by NOAA's Seattle weather forecast section, nearly 75% of all reported sewer overflows are caused by accumulated cooking fats.
5. Difficulty in identifying the exact location of drain line issues
Sometimes, it can be challenging to identify the exact location of drain line issues. Even if you know there's a problem with your plumbing system, figuring out precisely where it is can be a headache. 
A professional plumber has the experience and tools necessary to inspect and pinpoint the issue accurately so that they can fix it efficiently without causing more damage than necessary.

Causes of Drain Line Problems
Have you ever experienced slow drainage in your sink or shower? Or maybe you've noticed an unpleasant odor coming from your pipes. These warning signs, if left unaddressed, can lead to costly repairs and even health hazards. 
But what causes them? Let's find out!
Accumulation of debris, grease, and foreign objects
One major cause of drain line problems is the accumulation of debris, grease, and foreign objects. Over time, food particles, hair, and other small items get washed down our drains, causing clogs to develop. In addition to this, household waste, fats, and oils from cooking often accumulate inside pipes, leading to blockages. 
According to a survey conducted by the Environmental Protection Agency (EPA), up to 47% of sewer overflows are caused by fats, oils, and grease in sewage collection systems. 
These accumulations can lead to even bigger issues, such as broken or collapsed pipes, which need immediate repair services from plumbing experts.
Tree root intrusion into drain lines
Tree roots can cause damage to your drain lines over time, especially if the lines are older and made of clay or concrete. 
The roots seek out sources of water, and their tendrils can infiltrate even the smallest cracks in your pipes. As they grow thicker, this can lead to blockages and weaken the structural integrity of your plumbing system.
In fact, according to an EPA report on aging infrastructure in 2018, tree root intrusion is responsible for up to 50% of sewer line backups!
Aging pipes and corrosion
Over time, drain lines can deteriorate due to age and wear. Corrosion from chemicals, water hardness, or acidic substances can also eat away at the pipes until cracks and leaks form. 
If you have an older property with original piping or galvanized steel materials installed before the early '70s (which are subject to corrosion), it may be worth looking into replacement options before costly damages occur!
Poor drainage system design or installation
This is a very common cause of drain line problems. When drain pipes are not placed correctly, they can become misaligned or gradually shift over time. This can lead to leaks and blockages, which in turn cause slow-draining water and foul odors. 
As per the National Association of Home Builders (NAHB), improper plumbing has been identified as the number one defect found by home inspectors!
The Consequences of Ignoring Drain Line Problems
Ignoring drain line problems in your home or business can have serious consequences. What may begin as a minor issue that you ignore can quickly develop into an emergency situation – resulting in costly repairs and disruptions to your daily routine.
Worsening of Clogs and Blockages
A clog or blockage left untreated will worsen over time, leading to restricted water flow and backing up sewage. Hair, grease, soap scum, and food particles are just some of the common culprits that cause clogs in drains. 
If these aren't removed promptly, it could result in more than one pipe being blocked at once, causing an entire backup within your plumbing system.
Potential Damage to Property and Belongings
Neglected drain lines gradually start showing their unpleasant impacts on what surrounds them- be it homes or commercial buildings alike! If sewage water backs up into walls through fixtures such as sinks, bathtubs, or even showers, it causes damage not only inside but also outside walls. 
A sewage backup is never safe, but ignoring it just increases the risks that come with extensive damage down the road!
Health Risks and Sanitation Concerns
If pipes break due to lack of care, frequent usage, etc., then raw sewer waste directly flows out beneath floors, inflicting deadly diseases. It isn't something anyone would want!  
When people live in the same space as bacteria, viruses, mold, fungus, and other biological toxins brought in by broken drainage systems, family members, employees, and customers have serious health problems that can lead to people getting very sick or, in the worst cases, developing long-term chronic illnesses.
Increased Repair Costs Over Time
It's easier said than done when trying to fix things single-handedly instead of relying upon experts who know how to identify the root causes behind any blockages/damages! 
In addition to the cost of repairs, you also have to consider the potential damage it can cause over time. If left unattended, a small issue will eventually turn into an expensive problem in need of immediate attention.
How to Inspect a Clogged Drain Line?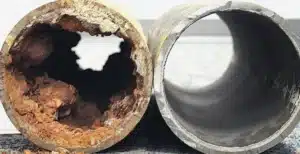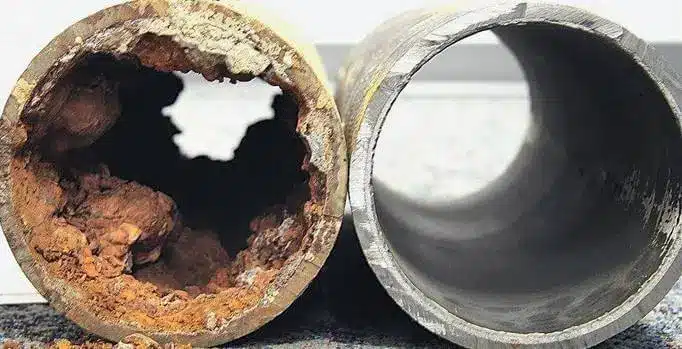 When it comes to drain line problems, inspecting the issue should be your first step. A clogged drain can often lead to bigger problems if not addressed promptly. To inspect a clogged drain line, begin by looking for any signs of water backup or slow draining in sinks and other plumbing fixtures throughout your home.
Next, check for any strange sounds, like gurgling, coming from your toilet or sink drains when you flush or run water. These could indicate blockages in the main sewer line.
If you're still having difficulty identifying the problem after doing visual checks around your home and listening carefully to detect unusual sounds, seek out professional assistance. A sewer camera inspection may be what you need!
How Can Smith Drain Solutions Help?
At Smith Drain Solutions, we understand how frustrating and disruptive drain line problems can be. That's why our team of experts is dedicated to providing fast and reliable residential and commercial drain cleaning services in Delaware, Maryland, and Pennsylvania – USA. 
Whether it's a slow-draining sink or a broken sewer line causing unpleasant sewage smells throughout your home or business premises, we have the right tools to solve any drain problem quickly.
Our professional plumbers are well-equipped with advanced technology like hydro-jetting which allows us to quickly clear away even the most stubborn blockages caused by tree roots or grease buildup.
Don't wait until it becomes an emergency! If you notice any signs of clogged drains, don't hesitate—call us for an inspection today! 
Remember: finding early warning signs is an important step toward preventing costly repairs further down the line. So keep an eye out; spotting potential issues now could save you big money later on!