As much as we love food and cooking, the aftermath of it is a messy task. To clean your kitchen sink may sound like an easy job but beware; things can get out of hand if you neglect it for too long. The last thing anyone wants is to see their dirty dishes piling up while waiting hours for their slow-draining kitchen sink.
Do you know that your kitchen sink drain isn't the only thing clogging up during food preparation? It's common for fats, oils, and grease (FOG) to accumulate within pipes and drains as time passes. FOG causes massive blockages that potentially damage your plumbing system if appropriate actions are avoided.
Hydro jetting is a solution to many blocked drains in both commercial and residential properties. Hydro jetting uses high-pressure water flow from specialized machinery instead of using harsh chemicals or augers/snakes through pipes, removing blockages.
Kitchen drain cleaning is vitally important since organic waste build-up increases at an alarming rate. That certainly leads to extensive risks while cooking meals in this area of our homes or business environments.
This article will give insight into hydro jetting advantages for clean kitchen drains, which help keep healthy living spaces devoid of any disgusting or unhealthy things down below! Let us get started!
Importance of Kitchen Drain Cleaning
It's not unusual for kitchens to experience drainage problems. Just think about the amount of food debris and grease that passes down your drain every day – it can undoubtedly cause blockages! 
Neglecting regular kitchen drain cleaning can result in some nasty consequences like strong odors emanating from the sink or, even worse, leaking water damaging valuable items underneath your sink.
Additionally, several other problems like slow drainage or complete blockage can make life difficult in your kitchen, thereby wasting valuable time. Regular cleaning not only keeps these common issues at bay but also ensures smooth functionality in the long run.
By investing just a little bit of money towards regular clean-up sessions for your kitchen drain pipe system under expert supervision, homeowners are guaranteed excellent longevity for their plumbing systems; they can also save tons of potentially costly repairs/replacements, later downshifting their wallet woes.
Hydro Jetting for Kitchen Drain Cleaning
Hydro jetting can save your day from regular fighting with a clogged kitchen sink! This amazing process uses high-pressure streams (over 4000 PSI) to dislodge any stubborn buildup, debris, or other gunk that's been holding onto your pipes for dear life. It's an awesome choice if you need something that packs a punch and gets the job done right!
Professional plumbers use specialized tools and equipment for hydro jetting services, such as hoses capable of withstanding very high pressure. This technique can remove even the toughest blockages without damaging your plumbing system- making it a safer alternative than chemical drain cleaners.
Benefits of Hydro Jetting for Kitchen Drain Cleaning
Your clogged kitchen sink drain may be driving you nuts. Fear not, with hydro jetting to save your day! This powerful technique uses high-pressure water jets to blast away even the toughest blockages. Let's take a look at some of its incredible benefits and get ready for a clean and clear kitchen drain!
1. More effective than traditional drain cleaning methods
An easy way out from frustrating situations with clogged drains is to hydro jet! You can say goodbye to plungers or chemical drain cleaners!
While regular cleaning methods only push blockages farther into the pipe, hydro jetting uses high-pressure streams of water (like a power washer sent down) that break up any stubborn build-up or debris lurking in there. Think about it as a spa treatment for your drains.
Believe it or not, studies show that hydro jetting removes up to 99% of clogs and blockages from pipes! Next time when grease or food particles refuse to budge from your garbage disposal unit – just reach out to a professional!
2. Eliminates bacteria and other harmful organisms
Hydro jetting for kitchen drain cleaning efficiently eliminates bacteria and other harmful organisms that may be lurking in the pipes. Unlike traditional methods like snaking or chemical cleaners, hydro jetting blasts away debris, build-up, and clogs forcefully through a high-pressure stream of water. 
This ensures all contaminants are completely removed from the inner walls of your pipes, leaving them clean and safe to use again without any risk of bacterial exposure through food preparation, etc.
3. Saves time and money
Hydro jetting your kitchen drain pipes is not only super efficient but also saves money. Say goodbye to those long hours spent on fixing your old clogged sink since this is a fast solution. Who wants multiple trips to the hardware store, let alone spending hundreds or thousands in damages toward their home just because they need their drain unclogged?! 
But with hydro jetting, the process can be done quickly and efficiently without having to dig up any pipe or remove fixtures – resulting in lesser time consumed by cleaning at affordable prices! So why go for expensive solutions when you have eco-friendly options like Hydro Jetting?
4. Environmentally friendly
Unlike traditional chemical drain cleaners that can be harmful to both your pipes and the environment due to their toxic chemicals, Hydro Jetting is an eco-friendly method that uses high-pressure water instead. This ensures cleaner drainage without any negative impact on the environment.
Did you know prolonged use of conventional drain cleaners can even lead to pipe corrosion? But hydro Jetting – will make cleaning easier and safer for everyone in your home – including pets! 
5. Prevents future drain blockages
One of the most significant benefits of hydro jetting for kitchen drain cleaning is that it can prevent future blockages. The way the water stream is used through hydro jetting – clears out any blockages – allowing water to flow freely through your pipes.
This helps eliminate any additional debris from sticking to your pipes, which minimizes the chances of future blockages occurring.
According to studies by plumbing experts, regular use of hydro jetting keeps drains and pipelines clog-free for a longer period without damaging them as chemical cleaners do. 
When to Use Hydro Jetting for Kitchen Drain Cleaning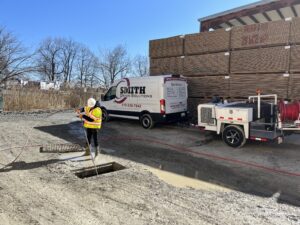 If you've tried multiple methods, but your sink is still slow as a snail, or worse – water won't even go down the drain, and an unpleasant odor is driving you crazy. Don't worry, though, because these signs indicate it's time for hydro jetting. This process will tackle frequent blockages head-on like an unstoppable superhero.
If you suspect there's a buildup of grease or food particles accumulated in your pipes over time; hydro jetting is probably the best solution.
While other options, such as hot water, baking soda, and white vinegar solutions, work well to dislodge minor clogs or regular cleaning needs, they're not effective against severely blocked pipes. Chemical cleaners are also not advisable since they can damage your kitchen pipes over time.
Hydro jetting can get your job done – with its high-pressure water-jet system of up to 4000 psi and powerful blast nozzles designed specifically for certain types of obstructions within plumbing systems.
How to Perform Hydro Jetting for Kitchen Drain Cleaning
Steps involved in hydro jetting
Hydro jetting is an innovative method of cleaning your clogged-up drains. Here are the steps involved in clearing up your kitchen sink with this process:
Survey:

The first step is to inspect and identify the source of your clog.

Preparation:

After identifying the problem areas, turn off any nearby water sources before proceeding.

Hydro Jetting:

Once ready, use pressurized water with high-velocity energy to dislodge tough blockages from deeper down within pipes and thoroughly clear away other debris build-ups along pipe walls for a better result!

Clean Up and Flow Test:

Finally, clear everything out when done by flushing and running hot water through it as quickly as possible until there's no longer any resistance or debris blocking it up again!
That's how easy hydro-jetting can be!
Tips for maintaining kitchen drains after hydro jetting
After hydro jetting your kitchen drain, it is important to maintain it regularly. Here are some tips that can help you keep your kitchen drain in good shape: 
– Pour hot water down the drain once a week
– Avoid pouring oil and grease down the sink
– Use baking soda and vinegar as natural cleaners
– Use strainers to prevent food scraps from going down the drain 
Conclusion
Summing up, hydro jetting is a reliable and effective method that ensures the clean and clear flow of the kitchen drain. It eliminates stubborn blockages and prevents future clogs or buildup in pipes while protecting the environment. 
Choosing to opt for this service will help you save both time and money down the line while maintaining a robust plumbing system. 
If your kitchen sink is frequently blocked or draining slowly, don't hesitate to contact Smith Drain Solutions today for professional hydro jetting services! Around here in Pennsylvania, Delaware, and Maryland, we have grown our reputation as one of the bests in the business. Drain inspection, hydro jetting, or maintenance – you say it, and we will provide you with our expert help and guidance!
Don't allow a backed-up drain ruin your everyday schedule. As a leading drain solutions company in Baltimore County, we are in Towson, Catonsville, Owings Mills, Dundalk, Pikesville, White Marsh, Parkville, Middle River, Essex, Lutherville-Timonium, Perry Hall, Woodlawn, Cockeysville, Reistertown, Rosedale, Randallstown, Arbutus, Overlea, Kingsville, Milford Mill, Bowleys Quarters, Lochearn, Edgemere, Rossville, Carney, Garrison and Hampton.