When having a blockage in your sewer it is usually not too difficult to tell that there is a problem. Like if there is a loud gurgling sound coming from your toilet or a drain. Or if your is raw sewage coming back up the drains. while knowing that there is a problem can be very simple, finding the cause of the problem can be quite difficult and that is at Smith Drain Solutions we use video camera sewer line inspections to quickly identify the reason for a blockage. These waterproof cameras are attached to a long flexible rod that is put through the area that needs to be inspected. This camera provides our technicians with live video that can be inspected for potential causes.
When is a camera sewer inspection needed?
Your technicians will know when to recommend a camera inspection. This is usually when a sewer line has had repeated backups or when a cable machine is not doing the job. Camera inspections can go a long way in identifying all different types of pipe problems within a home or business. One of the most common issues is when a root has stop flow in your sewer system. Though with a camera inspection a technician can identify if the section is misaligned or has begun to collapse.
Why use a camera?
There are two main reasons for camera inspections. Both of them benefit the customer. The first is to save time fixing the problem. By using the camera inspection a technician can identify the problem quicker reducing the overall time fixing it. Also, it saves money on sewer line repair. By correctly identifying the problem, we can come up with the most efficient and cheapest way to fix your sewer blockage.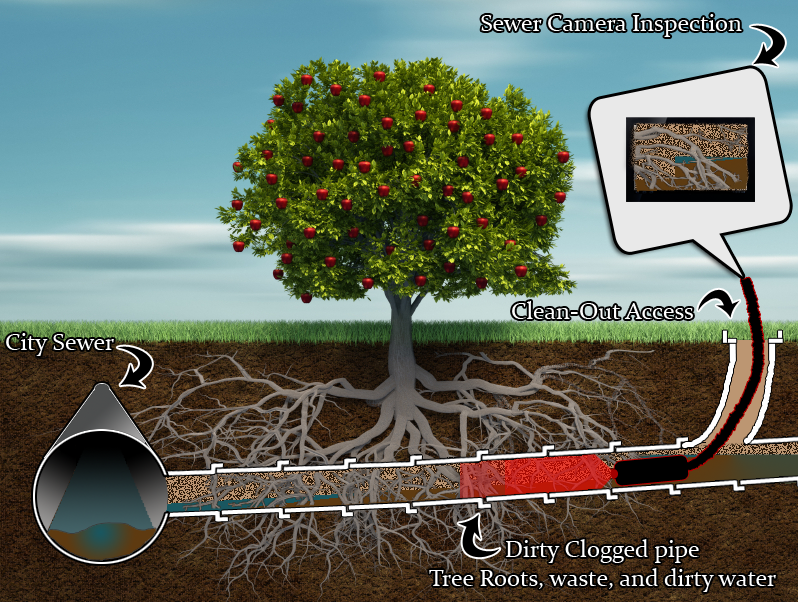 How do we use a camera to identify the problem?
Think of having a remote-controlled snake with a camera on its head with a bunch of bright lights. Our technicians control the snake-like rod to navigate your sewer lines and search for the problem.
If you are struggling with sewer backups and want to book a camera inspection just give us a call at   410-938-7642 or book an appointment here.
Don't accept less than the best when it comes to plumbing system upkeep. Harford County, Aberdeen, Havre de Grace, Edgewood, Bel Air, Abingdon, Fallston, Forest Hill, Jarrettsville, Belcamp, Pylesville, Darlington, and Perryman are all served by our team.