Cast iron pipe corrosion is a common problem for many residential buildings, often caused by continuous exposure to water and oxygen in the atmosphere. It can cause serious structural damage to your home's plumbing system, leading to costly repairs and replacements. Cast iron pipes have been used in plumbing systems for over a century due to their durability and long-lasting qualities. 
However, these pipes are not invincible and are susceptible to corrosion over time. Understanding the causes and signs of cast iron pipe rust is essential to preventing repairs and replacements. This guide will cover everything you need to know about cast iron pipe corrosion and how to deal with it.
Causes Of Cast Iron Pipe Corrosion
Many factors, including exposure to water and other corrosive chemicals, cause pipe corrosion. The most common cause is oxygen. When oxygen comes into contact with iron, it causes the metal to oxidize and form rust. This oxidation process weakens the structure of the pipe over time, resulting in corrosion. Other factors that can contribute to casting iron pipe corrosion include:
Chemical corrosion is caused by exposure to harsh chemicals such as acids, alkalis, and salts. Chemical corrosion of iron in pipes can occur when these chemicals come into direct contact with other compounds in the pipe, like copper or zinc, acting as catalysts and speeding up corrosion.
Microbiologically Influenced Corrosion (MIC)
Microbiologically Influenced Corrosion (MIC) occurs when microorganisms, such as bacteria, fungi, and algae, come into contact with iron in pipes. These organisms produce organic acids, which can erode the metal over time. MIC is most common in older plumbing systems where organic material builds up and provides an ideal environment for microbial growth.
Minerals in the soil, such as iron and sulfur, cause soil corrosion. These minerals can react with water and oxygen to form compounds that corrode the metal pipe over time. Soil corrosion is common in areas with high groundwater or surface runoff levels. 
Galvanic corrosion occurs when two metals, such as copper and steel, are connected in a plumbing system. This creates an imbalance of charge, which causes current to flow between the two metals. The metal with the lower electrical potential will corrode more quickly than the other, leading to pipe failure over time. 
Other Factors Contributing to Corrosion
In addition to the above factors, many other environmental and mechanical conditions can contribute to the corrosion of cast iron pipes. Temperature fluctuations, vibration, abrasion, and electrical current can accelerate corrosion. Poor installation practices, such as inadequate support or insulation, can also play a role. 
Signs of Cast Iron Pipe Corrosion
Signs of corrosion can include discoloration, flaking paint, and the presence of rust. Inspecting your pipes regularly for any signs of wear or damage is important. If you notice any changes in the appearance of your pipes, contact a professional plumber to assess the situation and make repairs as necessary. Preventing corrosion will help protect your pipes and keep them functioning optimally. 
A telltale sign of corrosion is slow drains and backups. Toilets, sinks, and other fixtures that are connected to corroded pipes. It can become clogged or slow in a sewer line or drain interior. If you're experiencing these issues, it may be a sign that your pipes are starting to corrode. 
Corroding cast iron pipes can also cause discoloration in the water from your fixtures. If you notice a reddish tinge to your water, it is likely due to corrosion in the pipes. Similarly, an unpleasant odor may indicate corrosion inside your pipes. 
Cast iron pipe corrosion can cause structural damage to the pipes themselves. Over time, the metal weakens and becomes brittle, making it more prone to cracking or bursting from pressure in the system. If these problems aren't fixed quickly, they can cause expensive repairs or even cause the whole system to fail. 
In addition to the warning signs inside your home, you may also notice indications of corrosion in your yard. Discoloration from rust may be present on the soil's surface, and damp patches from leaking pipes may also appear. If you notice these signs in your yard, contact a professional plumber to investigate further. 
By being aware of the warning signs of corrosion and taking the necessary action, you can safeguard your home's plumbing system and keep it functioning optimally for years. Regular inspections, maintenance, and repairs will help guarantee that your pipes remain in top condition, saving you time, money, and energy in the process.
How to Prevent Cast Iron Pipe Corrosion
Preventing cast iron pipe corrosion starts with proper maintenance and care. Here are some steps you can take to help prevent corrosion in your pipes:
Set up regular inspections

. Having a professional plumber do regular checks can help you find and fix small problems before they get worse. They use specialized tools and techniques to examine your pipes for signs of corrosion or other issues.

Maintain the cleanliness of your drains regularly: Regular drain cleaning helps prevent clogs and buildup in pipes, which could eventually lead to corrosion. There are various methods available for this purpose, such as snaking or hydro jetting, that can keep your pipes clear and free.
Address Leaks Quickly:

If you notice any indications of a leak in your pipes, such as water stains or discoloration, it's essential to address the problem right away. A certified plumber can identify the source of the issue and make the necessary repairs to prevent further harm.

Use coatings that stop corrosion

. Many coatings and liners exist that can protect your pipes from rusting. These treatments adhere directly to the inside of the pipes, creating a shield between them and water or other corrosives.
Cost Of Repairing Or Replacing Cast Iron Pipes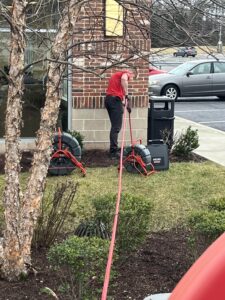 The cost to repair or replace cast iron sewer pipes depends on the extent of damage and how many pipes require attention. Repairs may range in cost from several hundred dollars up to several thousand, while full replacements are much more costly. It is important to remember that fixing cast iron pipes is usually much less expensive than completely replacing them. Hence, it is best to take action as soon as possible. 
By understanding the warning signs of corrosion, you can quickly identify any potential issues and ensure they are addressed before they become more serious—and expensive—problems. Taking timely action can help prevent plumbing disasters and save you money in the long run. 
What's in Cast Iron Pipe Descaling?
Descaling is the process of cleaning the scale and rusting out of cast iron pipes. To perform this procedure, a Picote Miller comes in really handy. This is a piece of advanced machinery developed specifically for the task of descaling. Picote Miller's cleaner consists of a steel cable with a polyethylene sheath that is linked to a series of chains with carbide tips. To remove scale and make the inside of the pipe as smooth as possible, these chains are spun at speeds of up to 2,000 revolutions per minute. Simultaneously, a hydro jetting machine uses high-pressure water to clear away any remaining debris in the line, leaving behind a smooth-running drain. This technique is excellent for unclogging cast-iron pipes and restoring water flow.
Consult With Smith Drain Solutions 
If you suspect that your home's plumbing system may suffer from cast iron pipe corrosion, it is important to contact a professional. Smith Drain Solutions offers comprehensive inspections and repairs to ensure your pipes remain in good condition. Our team of experienced technicians has the knowledge and skill necessary to identify any potential issues and make the necessary repairs quickly.  
At Smith Drain Solutions, we are committed to providing our clients with the highest quality service. We use only the best equipment and materials available, so you can be sure your pipes will remain in good condition for years. Contact us today for more information about cast iron pipe corrosion and our services. 
Conclusion
Cast iron pipes are durable and reliable but susceptible to corrosion over time. To prevent corrosion and keep your plumbing system functioning properly, it is important to take proactive steps to maintain the pipes. This includes regular inspections and using a water filtration system to reduce contaminants. It is advisable to always consult a professional for necessary repairs. Smith Drain Solutions offers comprehensive inspections and repairs for cast iron pipes. So contact us today to keep your plumbing system running smoothly.