Are you searching for your ideal home as a real estate buyer? Don't let excitement cloud your judgment! Before signing any contracts or buying anything, ensure you have a complete picture of the state of its sewer system. Your dream home's sewer system may not be glamorous, but it is vital. A sewer camera inspection for real estate offers an incredible tool that allows an inside look at any potential issues with underground pipes that could become serious later on. 
According to research by the National Association of Home Builders, sewer and water issues were among the top 10 issues reported by homeowners during their first year as owners of new homes. In this ultimate guide, we cover everything you need to know about drain camera inspection for real estate – so grab some coffee, settle back, and let's dive in!
How Does a Sewer Camera Inspection Work?
It is an efficient, non-invasive way to inspect your home's sewer line from the main sewer pipe. An inspector inserts a small, flexible camera into your pipe with both light and video capabilities so they can view your sewer on a monitor screen.
Here is a step-by-step overview of how a sewer inspection works:
An inspector must first locate the cleanout, which provides access to the sewer line. They then insert their camera into this opening and feed it down the sewer system.

An inspector will use a camera to inspect for problems with the sewer line, such as cracks, roots, or blockages. They'll record the inspection so you can watch it back later; once completed, they will remove their camera and clean up after themselves.

Sewer inspections can help identify potential problems with your sewer line before they cause significant issues. Suppose you are buying or living in an older home with an outdated sewer line. In that case, scheduling one provides a quick, affordable, and simple way of protecting your investment.
Signs You Need a Sewer Camera Inspection Before Buying a House
Home buying can be enormously daunting, and one key consideration should always be the sewer line's condition. A sewer inspection can help identify any issues before purchasing the home.
Old Houses with Original Pipes
The original sewer line could still be intact when buying an old house. These original lines may have been constructed of materials like clay, concrete, and cast iron that have worn down over time, resulting in leakage or blockages that need immediate attention.
Houses with Large Trees on the Property
Large trees on a property can have roots that penetrate sewer lines and cause significant damage, from breaking pipes to clogging drains and creating backups. Tree roots may cause breakages in pipes, block drains, and cause backups, preventing wastewater from draining properly.
Houses with a History of Sewer Line Problems
If the previous owners experienced difficulties with their sewer line, there could be ongoing issues under your house's current ownership. You should ask any potential sellers about any previously reported problems with the sewer system.
Houses with Unusual Smells or Standing Water
If you detect any unusual smells or standing water around your house, this could indicate an issue with the sewer line. A drain camera inspection should be scheduled immediately to pinpoint its source and assess any damage.

The Benefits of Getting a Sewer Camera Inspection for Real Estate Buyers
Home buying can be important; thorough research ensures you find a great deal. An inspection with a sewer camera can provide useful insight into potential problems with the sewer line and help make an informed decision on whether it should be bought.
Prevent Expensive Repairs
A drain camera inspection can help identify any potential issues with your sewer line, such as cracks, roots, or blockages that could cause backups, flooding, and sewage leaks, which could become costly repairs in the long run.
An average sewer backup repair can range from $500 to $5,000; leak repairs could cost even more. If you can identify and address an issue before it causes major disruptions to your sewage system, you could save money and time on repairs.
Protect Your Health and Safety
An annual sewer inspection can also help protect your health and well-being. Cracked or damaged sewer lines can allow sewage to leak into the ground, potentially polluting soil and groundwater sources while creating health risks for you and your family.
Septic waste contains bacteria and viruses that can lead to gastroenteritis, hepatitis A infection, and typhoid fever, making repairing cracked or damaged sewer lines urgently essential.
Avoid Future Hassles and Headaches
An underground pipe inspection can also save you from future hassles and headaches. When a problem with your sewer line arises, it can cause major disruption. Your water may have to be turned off, your yard dug up, and you may even have to deal with an unpleasant stench! It may help avoid future hassles and headaches altogether.
If the problem is severe enough, you may even have to move out while it's being fixed, so investing in an underground pipe inspection would certainly be worthwhile!
What to Expect During a Sewer Camera Inspection
Inspection is performed by inserting a small, flexible camera into the sewer line. This camera contains lighting and video capabilities to allow the inspector to see inside the sewer on a monitor screen.
To prepare for a sewer inspection, here are a few things you can do:
Begin your search for a qualified plumber or underground pipe inspection company by consulting friends, family, and neighbors for referrals. 

Get an estimate for the cost of the inspection from one of them. 

Clear away debris around any cleanout access points so it is easier for the plumber to gain entry to the sewer line.

Flushing all toilets and running all faucets will help clear out debris from your sewer line and facilitate an inspection.
A typical inspection typically lasts around 30 minutes to one hour.. A plumber or drain specialist will insert a camera into the sewer line, slowly moving it along its length as they observe the video feed on their monitor to search for any issues, such as cracks, roots, or blockages.
Once the inspection is over, the technician will discuss their findings, detailing any problems they found while examining your sewer line. Should there be any, they may suggest taking measures to repair or replace it immediately.
Understanding Sewer Line Problems
Sewer lines are an essential part of our homes and businesses. They transport away wastewater and sewage, helping maintain an environmentally friendly atmosphere. However, sewer lines can sometimes present problems; damaged or blocked lines can create havoc for residents regarding messiness, foul odor, and potential health concerns.
Common Causes of Sewer Line Blockages
Various factors could contribute to a sewer line blockage, but some of the more likely causes include:
Flushed wipes, diapers, feminine hygiene products, and other foreign objects may clog your sewer line and become trapped, eventually leading to blockages. 

Glycerin-laden grease builds up in sewer lines over time, causing blockages.

When tree roots invade sewer lines, they can cause blockages that clog them.

When your sewer line is improperly installed, it is more likely to clog. Over time, sewer lines wear out more easily and become more likely to clog. 
Types of Sewer Line Damage
Sewer lines can be damaged in numerous ways. Some of the more prevalent causes include:
Tree roots can be a serious threat to sewer line integrity. Their roots can grow into the sewer pipe and cause cracks, blockages, and leaks. If trees are near your home, regular inspections of your sewer lines to check for root intrusion should be scheduled to protect yourself against potential issues.
Corrosion and Deterioration
Sewer lines are constructed using various materials, including concrete, clay, and metal. Over time, these materials can become worn down due to exposure to elements such as water and chemicals like bleach and ammonia present in wastewater; corrosion then occurs, leading to cracks, leaks, and blockages in sewer lines.
Sewer lines may become damaged by earth movements caused by earthquakes and heavy rainfall. As the earth shifts, this may cause the sewer line to buckle or sag, causing weak spots to form in it, eventually cracking or leaking into other pipes in its path.
Sewer lines should incline slightly downward from your home to the sewer main to ensure wastewater flows freely along their length. Otherwise, backups can occur and cause flooding.
Sewer Line Repair Options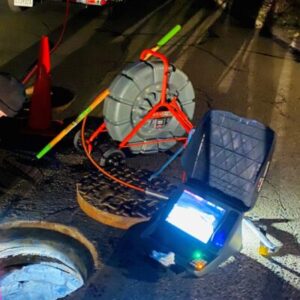 Your sewer line is a key component of your home's plumbing system, carrying wastewater away from your residence into the municipal sewer network. Any damage may lead to various complications—backups, flooding, or leaks—making repairs necessary and sometimes necessary. Depending on its severity and cost, various methods are available for repairing your sewer line.
Trenchless sewer line repair is an economical, minimally invasive way to address sewer line damage that does not involve digging up the earth. This method is often utilized when the sewer lines are in hard-to-access places, such as under a driveway or sidewalk, making access more challenging. There are several different kinds of trenchless sewer repair methods, including:
Pipe bursting:

This method involves inserting a new pipe into an old one, inserting water pressure, and then blowing out the old pipe using this new one. 

Cured-in-place pipe lining:

In this approach, flexible liners are installed into old pipes and cured using epoxy resin.

No-dig sewer lining:

This method involves inserting a small, flexible camera into an old pipe and using resin patches to repair any cracks or damage in that section.
Trenchless sewer line repair may be more expensive than traditional repair methods, but it can often be completed more quickly and with minimal disruption to daily activities.
Traditional sewer line repair typically entails digging up the ground surrounding a sewer line before repairing any damage. This method is most frequently employed when the sewer line is located within easy access—for instance, in your front yard. There are multiple traditional methods available, including:
Relining is a method that involves inserting a new pipe inside an old one while patching the damage done to an older pipe using patches and replacing it with a new pipe altogether.

Traditional sewer line repair can be less costly and more disruptive than trenchless repair, taking longer and being more disruptive to complete.
Sewer line replacement is an extensive repair involving removing and installing an entirely new sewer line in its place. This procedure may become necessary when the old line becomes damaged beyond repair or if its location makes it inaccessible. At the same time, this project can be costly and disruptive. Often, replacing old sewers with new ones is the only long-term solution to ensure the optimal health of your sewer system.
How to Choose a Sewer Camera Inspection Company
A few key aspects should be considered when selecting a sewer inspection company. You want to hire one to perform a comprehensive assessment and deliver accurate results. Here, we suggest some key points as ways to do just that.
Read Reviews and Testimonials

 
Give yourself time to read reviews from past customers of any business you are considering doing business with. This can give you a good indication of their reputation and quality of work. Review sites or simply directly asking the company can give this insight.
Compare Prices and Services 
Compare pricing and services among various companies. While you don't necessarily want the cheapest option, don't overpay for services you don't require either. Look for one that offers fair pricing and multiple services that meet your requirements.
Smith Drain Solutions of Delaware and Baltimore are certified drain cleaners who offer high-quality services at reasonable rates, making them a top pick when searching for drain camera inspection companies in these regions. Reach out today to learn more about them and their ability to meet all your needs!
Conclusion
Congratulations on concluding our comprehensive guide on sewer camera inspections for real estate buyers! Now you are equipped with knowledge and confidence when purchasing properties with functioning sewer systems.
Consider investing in a sewer line inspection as an investment in your future home. Hiring professional inspectors such as Smith Drain Solutions will enable you to better understand the sewer system's condition, identify potential issues, and make an informed decision as you consider purchasing or passing. Happy house hunting!
In Anne Arundel County, our drain cleaning specialists are dedicated to offering outstanding service to a variety of communities, including Annapolis, Glen Burnie, Severna Park, Odenton, Pasadena, Crofton, Severn, Millersville, Edgewater, Arnold, Brooklyn Park, Cape Saint Claire, Riviera Beach, Riva, Highland Beach, Lake Shore, Ferndale, Galesville, Mayo, Maryland City, Friendship, Londontowne, and Herald Harbor.