For most homeowners, trees are a must for bringing both a nice aesthetic to the yard as well as a shaded area to enjoy during the summer. Though nice to have, tree roots can also wreak havoc on your pipes. Note: This is more common in older homes or homes near larger trees.
What are some of the signs?
Slow Emptying Drains
Slow emptying drains are the first and most common sign of root damage. If it is just one or two drains emptying slowly then its most likely a blockage. If most or all of the drains in your home are starting to drain slowly then tree roots are most likely to blame.
Poor Flushing
If you notice that after flushing your toilet that it is draining very slowly and/or hearing a gurgling noise, then there is a pretty good chance that it is root damage.
Sinkholes
Though common in some parts of the country, sinkholes can also be a sign of serious pipe damage caused by roots. If a sinkhole forms in your lawn stay away from it and immediately call a professional
Unpleasant Odors
Unpleasant odors coming from your drains and toilets may be an indication that there is sewage sitting in your pipes rather than draining properly. Tree roots may be causing this.
How do we confirm the presence of tree roots and get rid of them?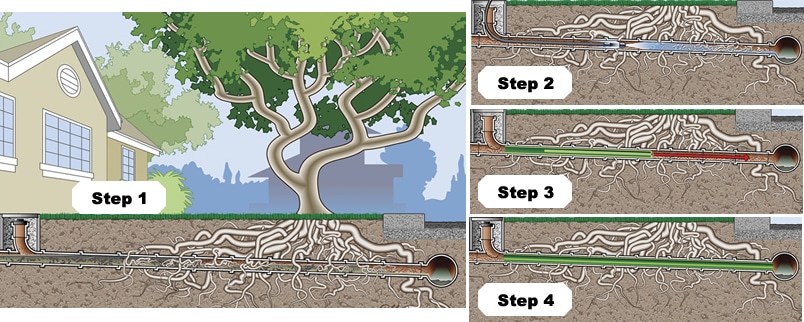 A technician will come out to your home and use a drain camera to get a better look inside of your main sewer pipe. This camera takes video footage and pictures within the pipe and allows our technicians to find the root cause (pun intended) of your drain issue. Once identified we can use a method called hydro jetting. Hyrdo jetting uses high-pressure water to essentially grind up the tree roots and other debris in your pipe. You can see an example of hydro jetting being used here.
If you suspect that tree roots are clogging your pipes give Smith drain solutions a call at 410-938-7642 or book an appointment here.
We are not limited; our qualified specialists are also available to provide first-rate drain cleaning services in a number of locations throughout Lancaster County and its surrounding areas, including Adamstown, Akron, Bainbridge, Bart, Bausman, Bird In Hand, Blue Ball, Bowmansville, Brownstown, Christiana, Columbia, Conestoga, Denver, Drumore, East Earl, East Petersburg, Elizabethtown, Elm, Ephrata, Gap, Goodville, Gordonville, and Holtwood.